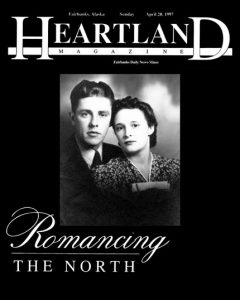 SAGA OF THE PIONEER KELLYS
by Judy Ferguson (free lance writer)
On a recent spring night, I gazed at Kelly's Alaska Country Inn, twinkling with little white lights, which reflected off the snow and it struck me how Kelly's had grown up, right along with early Delta. When Sam and Chaddie Kelly moved to Delta Junction, few homes had electricity and there was not even a store. Pioneering wasn't new, however, to Sam and Chaddie who had spent the previous 20 years with the miners and settlers of territorial Alaska.
The Alaska Territory was an intimate society of Natives, miners, military, builders and merchants who had their own ways of doing things, Into this society in 1935 came Sam Kelly, leaving behind Seattle and riding the rails for work in the gold fields of Alaska.
In the old boomtown of Flat, Kelly and his buddies, Russ Diehl and Al Remington, worked as mechanics. As fall came on, most of the miners went south for the winter, but like the "Big Sam, "who" left Seattle "in Johnny Horton's song," North to Alaska," Sam Kelly also headed north.
Young Chaddie Byers arrived in Fairbanks in 1934, with her family who had fallen on hard times in Saskatchewan. Her uncle Hosea H. Ross of Alaska, had offered her father a job-the demolishing of a Nenana hotel and freighting of the lumber to Fairbanks to be used in building homes.
"Times were pretty tough in Saskatchawan," Chaddie explained, "My father, Ernest Byers, was both a farmer and a coal miner and when coal dropped to 5 cents a ton and drought set in, farmers were forced to trade their butter and meat for coal."
Uncle 'Hosey," the lone Fairbanks undertaker and a real estate dealer, met the Byers family in Valdez, chauffeured them north where they rode Rika's ferry across the Tanana River and then arrived at Fairbanks, the hub of mining activities in the Alaska Interior.
Fairbanks was a town of only 4,000 people then but it had its brush with celebrities. Ernest Byers, a great admirer of Will Rogers, spotted the inimitable cowboy "diplomat," shopping at the Co-op Drugstore on Second Avenue and politely introduced himself. Not long after that day, it was Hosea Ross' duty to prepare the bodies of Rogers and Wiley Post for their last journey home after a fatal plane crash. The name of Hosea Ross turns up in other parts of Fairbanks history as well. On the wall of the Kitty Hensley house at Alaskaland, Chaddie has spotted her uncle's signature on Hensley's death certificate.
Diehl introduced Sam to Chaddie in the winter of 1939; she was captivated by the man who was 12 years her senior and they married in January of 1940.
Sam and Chaddie went to Rampart their first summer together and Sam worked as a mechanic for the Reid/Crane gold mine on the Yukon River.
"Sam was never boring," Chaddie said.
One day while he was resting in their sod-and-grass-roofed cabin, the dry grass caught on fire from sparks flying from the stovepipe. Chaddie hollered, "Fire!" at her sleeping spouse who, exiting in his birthday suit, took one look at the roof, shrugged and said, "It'll go out," and returned to bed.
When winter came, the couple moved to a hotel room in Flat, where her Fairbanks friend, Eva Miscovich's father, Pete, was still mining outside the former boom town of Iditarod. Chaddie remembers buckets of gold nuggets scattered around Pete's clean-up. When Chaddie climbed the hotel's stairwell to the roof, she was amazed to see another kind of bucket: rows of frozen honey pots, waiting for spring to be carried away.
For more than 13 years Sam and Chaddie traveled from Nome to Colorado to Seattle, working mechanic jobs. In March of 1941, they were returning north from a year's work in Colorado. Sam, who signed on with the Canadian Oil Pipeline preceded Chaddie, who soon followed the trail north, accompanied by friends. Sam rode with the first Cat train into the Northwest Territories, breaking trail up the Mackenzie River to Norman Wells. Twelve Caterpillars for CANOL hauling wannigans from Edmonton, sent Eskimos, who had never seen white men before, running for the woods.
Chaddie headed north on a steamship, traveling straight into a March storm. When the vessel began to ice up, it became necessary to return to Juneau. Even after the weather cleared and the boat was again on its way, war priorities caused Chaddie and her friends, Tony and Liza, to get bumped at Skagway. They managed to book passage on the White Pass Railroad, riding over the Sawtooth Mountains, staying warm by means of wood stoves provided in each car. In Whitehorse, Tony "soft soaped" a pilot, flying for the military, to take them all the way to Fairbanks.
Sam had to do his own hitchhiking. Once the CANOL Cat train had arrived in Norman Wells, he, tired and dirty, spotted a pilot just warming up his engine. "I'm going with you! " he hailed the aviator, who replied, "But you don't know where I'm going…" "Anywhere, just outta here!" Sam retorted.
Finally Sam and Chaddie were rejoined in the North and continued on to Sam's next job in Ruby, landing on the Yukon River's spring ice. They met "Doc LaRue," the flying dentist, who invited them to socialize at the local dances, where they "cut a rug: to the tunes of an old Edison phonograph. Frequently, Chaddie said, an old sleeping fiddle player would wake from his exhaustion and suddenly burst into, "'The Old Rugged Cross." Then he would fall into slumber again, only to wake up seconds later to plunge into the hymn again.
Another strange sleep episode occurred when a friend of Sam's went into a Ruby resident's root cellar and encountered the common problem of winter interment. There, along with the family's larder, was a "sleeping" relative, waiting in cold storage for spring burial.
However there wasn't any place like Nome in early Alaska, where Chaddie recalled the driver and the horse of the local honey wagon detail. Both man and beast wandered daily into the famous Board of Trade saloon, both sucked up suds and then weaved down the street, carrying giggling Eskimo children, scraping cars as they went.
Chaddie arrived in this very colorful town in the late stages of her first pregnancy. Just after their daughter Susie, was born, an epidemic of diphtheria broke out In Nome. Chaddie's and Susie's departure for Kodiak, where Sam landed a job at the naval base, was delayed a week when a required diphtheria culture yielded inconclusive results.
Sam's and Chaddie's second daughter, Yvonne, arrived at another difficult time, in Kodiak, in February, when it was necessary to use cleats or chains to get around on this icy island in the Gulf of Alaska. The moving from job to job with Sam didn't bother Chaddie. "I loved it," she said. The Kellys returned to Fairbanks after leaving Kodiak and Sam acquired the U.S. mail contract for delivery by truck to the Canadian border between 1950-51. The family took care of some necessities while in town, like dental appointments with Doc LaRue, who based his practice out of Fairbanks. In order to reach his dental office, patients had to walk through La Rue's living room. Yvonne fondly remembered passing wicker baskets of gold and silver dollars. "That's the way Alaska was in those days," Chaddie explained, you could leave things laying about and nobody would bother them."
The Kellys came to Delta Junction in 1953 when Sam took on a job down the Richardson Highway at Allen Air Field, an airstrip built for the World War II lend-lease program. The fall wind was blowing silt as the Kellys moved into a small house not far from the area's trailer parks.
Typically, the trailers were about 8 by 16 feet," Chaddie said. "The bed often froze to the wall and once a wandering buffalo rubbed its backside on the outside of a trailer as the wild herd used to wander through town.
While Sam worked at the newly reclassified Fort Greely, He began to fulfill a dream to run a family hardware-lumber store. Chaddie was expecting their third baby and they waited for the son Sam had always desired. In June, Sam Kelly Jr. arrived. With great expectations, the family had invested everything into the birth of their new store, but on New Years Eve, after a severe cold snap, it burned to the ground. Sam watched helplessly as their uninsured business was swallowed up in flames. The resilient Kellys huddled together and considered the next move they would make.
Plans for another type of family business were generated when Sam noticed on his drive to work as a technician at Greely's power plant that the area could use a motel. Originally Sam unknowingly bought modular housing made of inferior material that sagged and rotted. Then, building on that lesson and the ashes of the hardware store, Kelly's Motel was constructed in1963.
Business associated with Fort Greely brought in winter visitors and in the summer tourists filled the parking lot.
But in the midst of the family's success Sam became inexplicably ill. He saw black spots in front of his eyes and had trouble walking. The cause was not pinpointed until 10 years later when he was diagnosed with a type of benign pituitary tumor that was placing pressure on his brain, affecting his ability to walk and destroying his optic nerve. Sam and Chaddie left Alaska in 1972 to live near Loma Linda Hospital in California for Sam's treatment and surgery.
Kelly's Motel switched gears forward into Sam's original vision, a business for the kids to run. It was also a new era, the beginning of the Alyeska pipeline. Susie was at the helm, while her young son Todd, and her brother, Sammy, became well acquainted with all the regular visitors, especially catering to the helicopter pilots, hoping for free rides. Pressed by the pipeline traffic, the family decided to add more units. Sam and Chaddie returned to Fairbanks from California in 1977. The motel went under other management, and Sam, after spending 2 years in the Pioneers Home, died there in 1981.
Chaddie found herself, four years later, picking up the management of the motel once again. Greatly helped by family and friends, Kelly's was transformed from a motel of the '70s to the new Kelly's Alaska Country Inn. Sam's dream of a family-operated business had been realized as five of Yvonne's and her husband, Howard Echo Hawk's, children have helped to carry it on.
One spring when the Delta Junction wind was typically blowing, Chaddie and Susie struggled to reseed the lawn. The wind evaporated the water faster than they could keep up with the sprinkler. This past summer, after the grass had finally taken root, Susie landscaped the lawn with sourdough trimmings, significant of Chaddie's 63 years in Alaska.
At a recent surprise 75th birthday party, Chaddie, ever the refined lady, expressed warm, demure astonishment at the 150 people gathered to honor her. Yvonne, who is every bit the showman that her father was, sang her version of "North to Alaska": "Big Sam left Seattle in the year of '34… Said Sam ' You're a 'lookin' at a lonely, lonely man," (lonely that is, until he met a Canadian-born gal, Chaddie Byers) "just a little east of Nome."